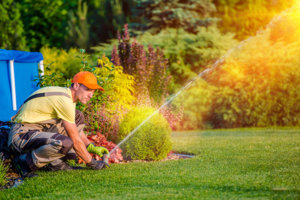 Is your irrigation system not performing as it did previously? Do you have areas of dry lawn? Service your irrigation system to have it operating at peak efficiency.
Even the most reliable garden irrigation system will need some repair and maintenance during its lifetime. Most quality garden sprinkler systems have between a 10-20 year lifetime, less if lower quality systems are installed.
If your system is not performing as you expect then you need the services of an irrigation specialist.
Happy Garden Sprinkler Systems specialise in the ongoing maintenance and repair of home and garden irrigation systems. Their trained technicians are able to diagnose irrigation problems on the spot and assist you with any repairs that your irrigation system may need.
"Phil has been servicing my irrigation system for over 6 years now. He is always punctual, reliable, capable and cheerful. Nothing is too much trouble and I can thoroughly recommend him."
 – Christine from Magill
Happy Garden Sprinkler Systems have all the tools required to make the necessary repairs to have your irrigation system up and watering at your command.
Happy Garden Sprinklers provide a prompt and professional service to the following areas; Stirling, Crafers, Aldgate, Mt Barker, Adelaide Hills, and Adelaide Metro and surrounding areas.
Happy Garden Sprinklers service and maintain the following types of irrigation systems:
drip irrigation systems
pop-up sprinkler systems
in-ground irrigation systems
automatic watering systems
For all your irrigation system needs, Phil has your answer.
If Phil is not able to assist you, he will happily recommend another experienced irrigation specialist who will be able to assist you.
For a friendly prompt service Phil is your man.
0412 828 158