Automatic irrigation systems are necessary to have your lawn and gardens healthy and vibrant in the Adelaide summer. A properly functioning garden watering system will give you peace of mind for those hot summer days.
Automatic systems save valuable water by setting them to water your garden at the ideal time. Additionally they can be regulated to suit the various seasons with some systems watering when sensors indicate your garden is drying out.
There are 4 main irrigation systems that are used in domestic installations.
Drip Irrigation
Subsurface Irrigation
Pop-up Sprinklers
Above ground sprinklers
Each of the above varieties have pros and cons that I will discuss in this review. In this review I have separated drip irrigation systems and in-ground irrigation systems.
Drip Irrigation
Drip irrigation in this instance is the the use of individual 'drippers' to water individual plants. This is one of the most efficient systems for watering your valuable plants. This type of irrigation system has a number of positives when it comes to watering your plants. By adjusting the individual 'drippers', or by use of 'drippers' with different flow rates you are easily able to regulate the amount of water that each plant gets.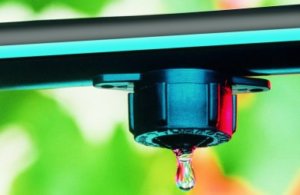 They can be placed underground or above ground and by use of flexible lines allows a huge amount of flexibility with your irrigation system. When placed above ground these installations can become an unsightly mess of hoses and connectors. To prevent this most installations will be placed under the mulch layer of the garden to keep the garden clean and tidy, however this can lead to individual 'drippers' becoming blocked. It also makes it difficult to see if the system is working properly.
Consider installing an inline water filter in these irrigation system as small impurities may block the individual drippers.
Pros
Cheap
Flexibility
Able to vary flow rates to individual plants
Water efficient
Ease of installation and change
Easily repaired (DIY)
Avoids fungal diseases
Cons
Easily damaged by pets
Easily damaged by normal garden activity, digging, weeding etc
Unsightly if not covered by mulch
May need an inline filter
Subsurface or In-ground Irrigation
In this instance I am referring to the installation of drip lines underground, that then distributed an even water supply to the whole garden. These installations are mainly used for lawns. They are commonly installed when lawns are laid or replaced as they need to be in the ground under the root system of the lawn.
One of the most efficient ways of watering large areas uniformly. This type of irrigation system when used correctly can used up to 75% less water than a pop-up irrigation system. When installing this type of irrigation system it is important to ensure the correct type of irrigation piping is used. There are weep lines that are designed for under ground use and weep lines that are only for use above ground.
Typically these installations are damaged during lawn coring activities.
The irrigation lines used under ground either have a chemical impregnated into it to stop root invasion or the system must use a chemical filter and back-flow prevention.
Pros
Very water efficient
Ideal for uniform watering of larger areas
Low maintenance
Ideal for lawns
Up to 75% less water
Cons
Professional installation costs
May need back flow prevention installed
Costly to install
More costly to repair if lines damaged
Pop-up Sprinklers
The most common type of lawn sprinklers are pop-up sprinklers. They pop-up to water and then retract when they are not in use. For this reason it is important that they are installed at the correct level. It is worth paying a bit more for 4″ pop-ups that will still water, even when the lawn is long.
Pros
Easy to test and see working
Easy to install
Hidden when not in use
Cons
Needs a small amount of maintenance
Not as efficient as sub-surface drip systems
Above Ground Sprinklers
Used for gardens and can be sprays, impact or gear drive type. Installed at the correct height to water over the garden.
Pros
Easy to test and see working
Easy to install
Low maintenance
Height can be adjusted to suit garden
Cons
Needs to be raised as the garden grows
Not as efficient as other irrigation systems